Micro Kit - Essential Tools Needed To Keep You Safe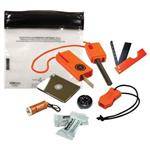 The?Micro kit features the unique micro survival tools. This small, lightweight, and extremely portable kit contains the essential tools needed to keep you safe on your next adventure. Kit includes: (1) loksak waterproof bag, 5" x 4", (1) button compass, (1) sabercut razor saw,(1) pico lite, (1) jetscream micro, (1) starflash micro, (1) spark force firestarter, (2)- wetfire tinder cubes. Size in loksak: 5" x 4" x 1.".
What do you think of this product?