5 Wire Tennessee Shad Fishing Rig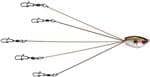 176.25 Reward Points on this product.
You will earn
The yumbrella rig simply allows the angler to throw five yum money minnows, grubs or spinner baits at once, to simulate a small school of baitfish. The 45-pound-strength snap and 75-pound-strength swivels ensure flawless performance on big fish. The yumbrella features a choice of head patterns, tennessee shad and foxy lady. Tennessee shad is a realistic shad pattern with white sides, shad dot, gill stripe and a touch of red under the mouth and tail. The foxy lady features a chartreuse base with dark back, shad dot and a splash of orange on the belly. Both patterns feature red 3d eyes. Professional bass angler, paul elias used an umbrella-rig to run away with the win at the october 2011 lake guntersville flw tour open. (the entire top-5 actually used umbrella-rig as well). Dan morehead also used the umbrella-rig to win at the kentucky lake ever start championship, as did scott brummett at the wal-mart bfl wheeler lake regional. The new yumbrella rig from yum capitalizes on the multi-rig phenomenon with a rig manufactured with "super wire,' stainless steel that has been repeatedly heat-treated for strength and flexibility. The five super wire arms are attached with a true molded coupler for incredible toughness and durability, ensuring that the wire arms never break free. Plus, the head of the rig contains a rattle for added attraction.
| | |
| --- | --- |
| New: | |
| New: | |
| New: | |
| New: | |
| New: | |
| Color: | |
What do you think of this product?