Racing Weight 2ND - Step Plan For Endurance Athletes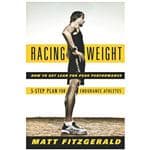 Endurance athletes are weight-conscious and given the miles and hours spent training, there?=s a lot at stake. Weighing in just five or ten pounds over the ideal weight can dramatically impact race results. Author matt fitzgerald shows athletes how to identify their optimal weight and body composition to realize their goals. This 5-step plan to get lean is the key to faster racing and better health. With tools to improve diet, manage appetite, and time important nutrients, racing weight will inspire and equip athletes to make the subtle changes they need to start their next race at their optimal weight.
What do you think of this product?