Quikclot Sport 50 Gram Pack - First Aid/Emergency Kit, Stop Bleeding Fast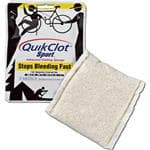 This listing is for one 50 gram. A must for any first aid or emergency kit. Quikclot sport stops moderate to severe bleeding until further medical help is available. Quikclot is a chemically inert material in a mesh bag that speeds coagulation of blood, resulting in a stable clot that stops bleeding. Many people use this item for survival, hiking, biking, work, school, camping, fishing, traveling, gift idea, recreational. Not limited to these. High quality and made to last. For men/women/kids. 5'' x 5'' (50 grams).
What do you think of this product?